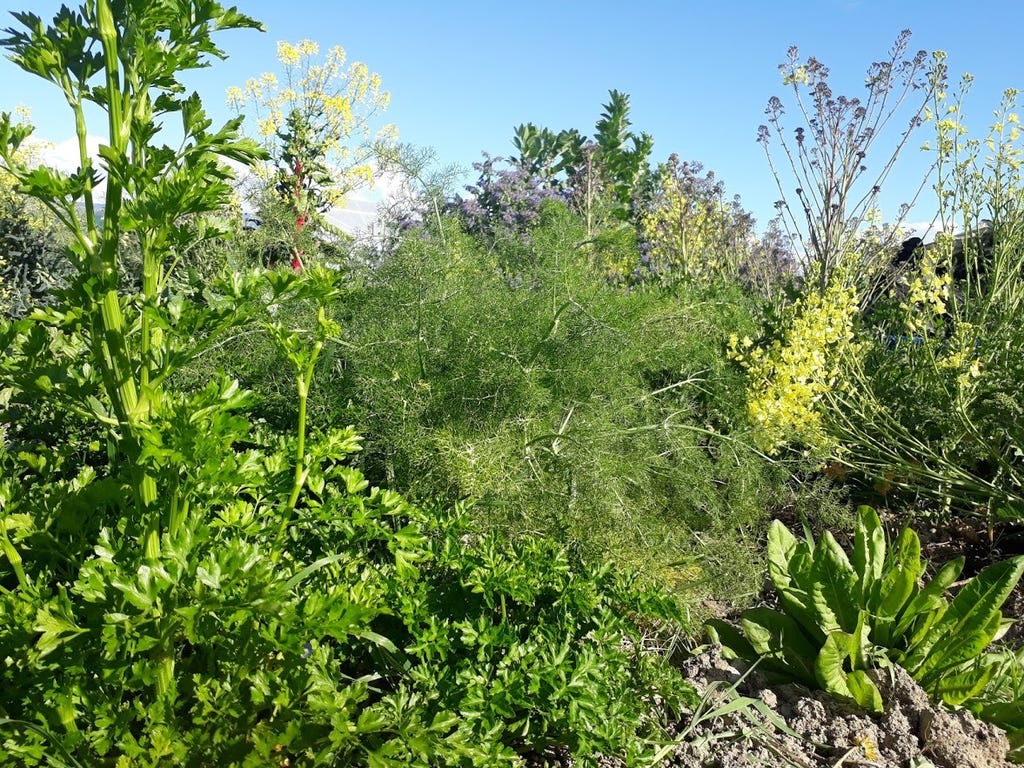 Bokashi Logic Buckets System
Recycling Organic matter. Building fertility naturally for the home garden.
Traditional Composting involves breaking down the organic matter in a process of decomposition. Bokashi Logic Compost, in contrast, uses a process of fermentation, resulting in a non-smelly compost high in nutrients and microbial activity. The Bokashi Logic Bran added to the organic matter contains bacteria, which thrives in the oxygen free environment of the buckets.
The result is fermented compost that can be added directly to the garden.
Bokashi Logic Buckets System
The Bokashi Buckets System contains;
2 sets of 2 buckets.
1 black space saver lid
1 white bucket lid.
1 kg Bokashi Bran
A bucket set contains a top bucket that is perforated in order for the liquid from the food scraps to drain into the bottom bucket. Place your food scraps in the top bucket and then sprinkle a small handful of Bokashi bran over this. Cover the top bucket firmly with the space saver lid. This lid has a vacuum value and is able to create an anaerobic environment in the bucket. Keep adding scraps and Bokashi Bran until the bucket is completely full.
At this point, remove the liquid in the bottom bucket which can be diluted and used in the garden or in drains. Change lids and place in a reasonably warm spot to begin fermentation. After two weeks this process should be complete. During this time use the second bucket set. Fermentation of the compost is apparent by the appearance of spots of white mold and fungus on the top of the bucket. The contents will smell sweet and sour. This fermented compost can now be dug into the home garden.
Bokashi Logic Bran
The key ingredient in Bokashi Bran is EM or Effective Micro-Organisms. This a combination of useful micro-organisms that exist freely in nature and were brought together in an organic process by Japanese Scientist Dr Teruo Higa in the 1980's.
Wheat Bran and saw dust are inoculated with the EM bacteria and molasses to produce a stable material that is activated when it comes in contact with food scraps - such as in the anaerobic environment of your Bokashi Bucket.


Super Compost System
The active bacteria in the Bokashi Bran means that, as well as fruit and veggie scraps, it is ALSO possible to process meat, dairy, cooked foods, and diverse condiments in a Bokashi Bucket System. These items are generally not recommended for aerobic compost piles they smell and can attract pests. Bokashi is a food waste recycler's dream!



Bokashi Logic
There is a commonly accepted link between human health and nutrition. After spending years researching the use of bacteria and minerals in organic agriculture and I came to the conclusion that if there are no minerals in the soil, then there won't be in food either. Bokashi Logic came from a wish to develop agricultural products and techniques that actively improve the nutritional quality of the soil.
All of our products are created with the goal of generating health through good nutrition, from the soil up.
Michel D´Hondt
EM Technology
EM consists of many different kinds of disease-suppressing micro-organisms working in synergy, yet each of which has a specific task. This mixture has been shown to;
improve the natural resistance of soil, plants, water, humans, and animals to disease.
improve soil structure.
manage water and soil polluting bacteria, eg. in sewage systems and septic tanks.

Three Community Projects ;
5000 Bokashi buckets for Tasman;
I am local to the Tasman Nelson region and have been working with EM Technologies for the last 15 years. I have a developed a range of probiotics, mineral supplements and fermented super foods from my experiences with EM. www.dhondtandsons.co.nz
With the Bokashi Systems I have strong belief that by recycling our house organic scraps in an effective way, we can improve soil fertility and decrease water pollution in our local region.
I share the vision for 5000 Bokashi Buckets system users in our region and to coordinate the recycling of this organic matter into local Community Gardens and the Bokashi liquid into our municipal waterways.
All the smalls streams add to the river and end up in Tasman Bay ;). (via the sewage water treatment)
if you want to be part of the 5000 Bokashi Buckets for Nelson
leave your email below

Manna for 50000 Bee hives;
We are wanting to initiate a research project around the benefit of using Biogenic Manna as a liquid smoke for the health and hygiene in the Bee hive.
If you are a beekeeper managing one hundred hives and more, we want to hear from you

- Motueka CSA project
You like to have high nutritious vegetables as part of your diet? support your local csa, we are starting with 10 families. Be the change, buy a bokashi bucket system from us and you will get free bokashi bran in exchange of your full bokashi buckets. You will help to fertilize the garden and will have priority to access the CSA please contact us if you want to make this small change with great impact.



Bokashi Logic 5000 buckets for Nelson